U.S. 1 Construction Expands North as Phase Two Begins
PennDOT's three-phase project to improve U.S. 1 in Bucks County expanded this spring to include widening a 1.5-mile section north of the Turnpike that includes upgrading the Neshaminy and Penndel interchanges and constructing new bridges over Rockhill Drive, the Neshaminy Creek, and the SEPTA and CSX rail complex north of the creek.
---
RC2
A construction barrier is in place along the northbound and southbound shoulders of U.S. 1 from the north side of the Neshaminy Interchange through the Penndel/Business U.S. 1 Interchange. Working behind the barrier, the contractor will excavate the northbound and southbound embankments along U.S. 1.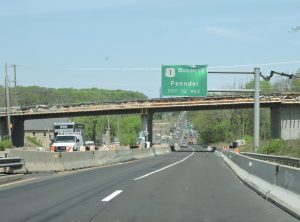 As work progresses over the coming months, the Section RC2 contractor will begin building retaining walls that will support construction of a third travel lane, along with an auxiliary lane, in each direction from just north of the Pennsylvania Turnpike's Bensalem Interchange to the Penndel/U.S. 1 Business Interchange.
Following construction of access roads this spring, foundations for abutments and support piers for the new southbound bridges over the creek and the rail lines will start and continue through the remainder of 2021.
Activities also will get underway this spring at the Neshaminy and Penndel/Business U.S. 1 interchanges, which will be reconfigured and improved to meet current design standards for all ramps and acceleration/deceleration lanes.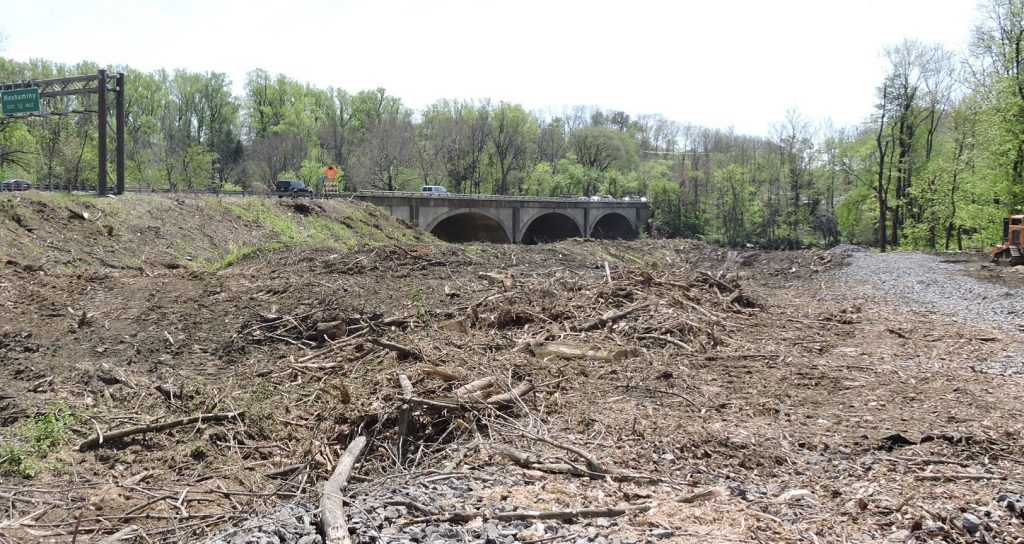 JD Eckman, Inc., of Atglen, PA, is general contractor on the $110.9 million RC2 project, which is financed with 80 percent federal and 20 percent state funds. Section RC2 construction is scheduled be completed in mid-2026.

---
RC1
Reconstruction of the southbound side of U.S. 1 also continues this spring from Old Lincoln Highway to north of the Turnpike, including the remaining sections of new bridges over Street Road, the Turnpike and the Turnpike ramps.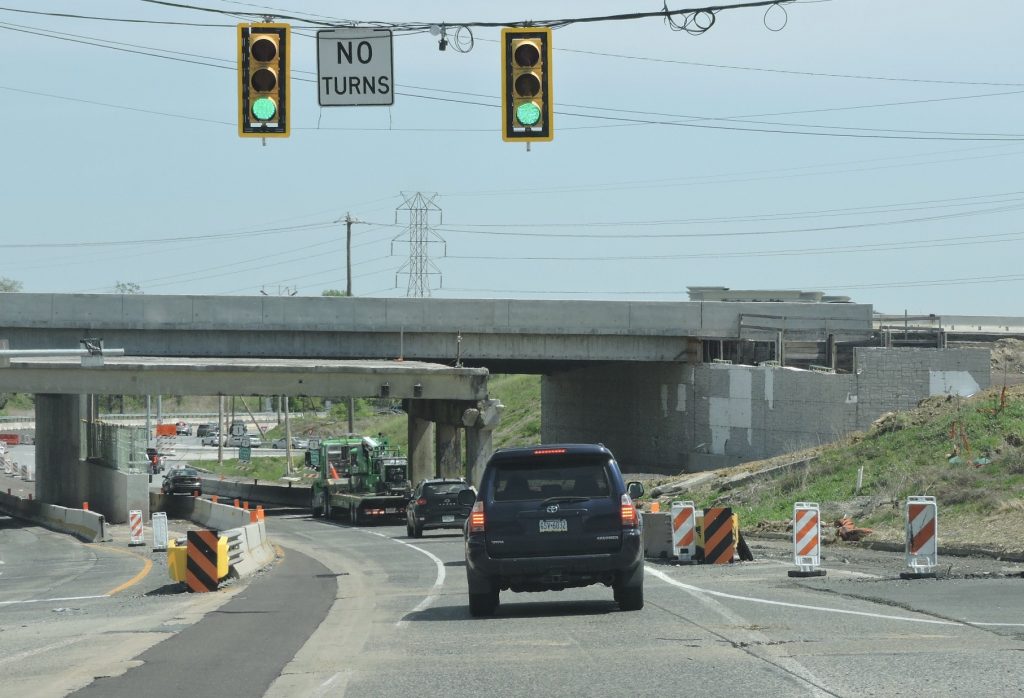 Demolition of the bridges carrying U.S. 1 over the Turnpike and its ramps, and over Street Road (partially) has been completed, and construction of abutment walls for the new bridges is underway (see above).
Foundations for sound walls that will be installed south of the Street Road (Route 132) Interchange also is underway along the southbound side.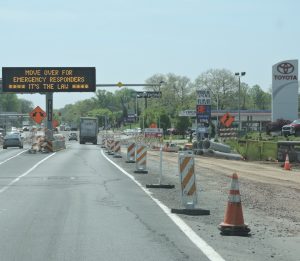 As bridge construction continues, installation of subsurface utilities and parts of the stormwater drainage system is underway on the southbound side of US 1 (see right).
The new southbound U.S. 1 ramp to and from Street Road (Route 132) is partially completed and in use for southbound U.S. 1 traffic heading in either direction on Street Road.
On Street Road (Route 132), reconstruction of the middle section of that roadway under the U.S. 1 overpass is being coordinated with construction of the southbound side of the U.S. 1 overpass.
Periodic off-peak or nighttime lane closures will be in place in both directions on U.S. 1 during ongoing construction in both work areas.
Access to and from properties located on both sides of U.S. 1 will continue to be maintained during construction.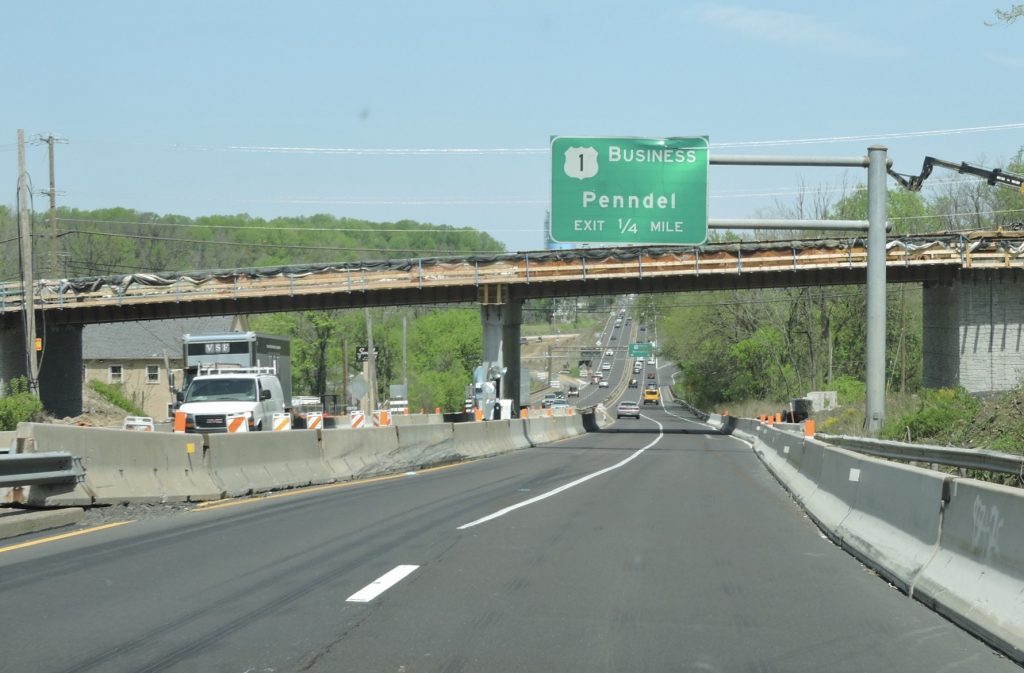 Construction of the new Bristol Road overpass is progressing and headed for completion this summer (see above).
Current construction on the $94 million project (RC1) is the first of three PennDOT contracts (RC2, RC3) that will improve more than four miles of U.S. 1 from Old Lincoln Highway in Bensalem Township through Langhorne Borough and Langhorne Manor to north of the Route 413 Interchange in Middletown Township, Bucks County, over the next seven-plus years.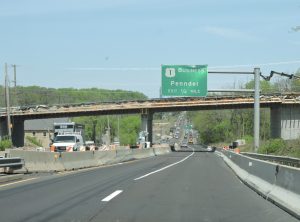 PennDOT in 2014 completed $14.8 million in improvements at the U.S. 1/Maple Avenue Interchange in Middletown Township as part of their overall initiative to modernize and upgrade the U.S. 1 corridor in Bucks County.
Alan Myers Construction, of Worcester, PA, is the general contractor on the $94 million project RC1 project.