Center Area Roadway, Bridge Construction Resume on U.S. 1
Spring 2020 – Construction resumed in late April on the project to widen and improve U.S.1 and reconstruct the interchange at Street Road (Route 132) following a month-long suspension of activities due to the COVID-19 crisis.
Work on this project is being done in accordance with Centers for Disease Control and state Department of Health guidance as well as a project-specific COVID-19 safety plan, which will include protocols for social distancing, use of face coverings, personal and job-site cleaning protocols, management of entries to the jobsite, special signing, and relevant training.
With northbound traffic now riding on the rebuilt and widened northbound side and southbound traffic remaining on the southbound side, construction resumed to reconstruct the middle of U.S. 1 between Old Lincoln Highway and Rockhill Drive in Bensalem Township, Bucks County.
Construction this spring includes removal of the remaining existing pavement and median, installation of stormwater drainage pipes and inlets, and construction of the middle portions of U.S. 1 bridges over the Turnpike, the Turnpike ramps and Street Road (Route 132).
Stage 3 work also includes construction of the new ramp from eastbound Street Road to southbound U.S. 1 and realignment of the slip ramp from Horizon Boulevard to the Turnpike's Bensalem Toll Plaza on the southbound side of U.S. 1. Slip ramp reconstruction begins this summer.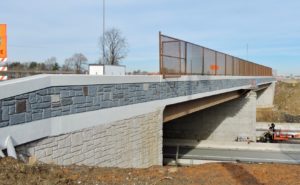 On Street Road (Route 132), reconstruction of the westbound lanes continues between Kingston Way and the U.S. 1 overpass following completion of the eastbound reconstruction in late 2019.
The contractor has completed the removal of the ramps on the westbound side of Street Road (Route 132) and will complete the final drainage improvements, grading, and soil stabilization this spring. Permanent access to northbound U.S. 1 from westbound Street Road (Route 132) will be from the new ramps on the eastbound side.
Construction of new Turnpike ramps on the northbound side of U.S. 1 also continues this spring.
Access to and from properties located on both sides of U.S. 1 will continue to be maintained during construction.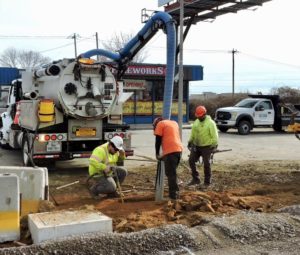 Current construction on the $94 million project (RC1) is the first of three PennDOT contracts (RC2, RC3) that will improve more than four miles of U.S. 1 from Old Lincoln Highway in Bensalem Township through Langhorne Borough and Langhorne Manor to north of the Route 413 Interchange in Middletown Township, Bucks County, over the next eight-plus years.
A number of engineering activities for the next phase of the project are taking place along the corridor as well. Motorist may encounter off-peak lane restrictions for some of these activities.
PennDOT in 2014 completed $14.8 million in improvements at the U.S. 1/Maple Avenue Interchange in Middletown Township as part of their overall initiative to modernize and upgrade the U.S. 1 corridor in Bucks County.
Alan Myers Construction, of Worcester, PA, is the general contractor on RC1.